Our course is about to end in coming two months. All the dreams that we have seen are going to come true. Some will work here, and some will go back to serve their own country, what's going to be the same for everyone is the experience and memories that will get cherished throughout our life.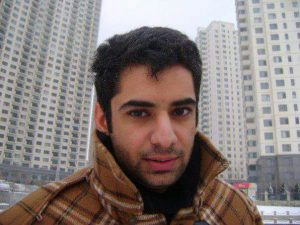 Having said that, there are few among us who have worked hard to be here at AMS and one among them is Onur Aslan, studying Global Supply Chain Management at AMS. He has not just been a wonderful colleague but a dear friend as well and something that add to my pride of being his friend is his achievement of getting a job in one of the most reputed company, Johnson & Johnson.
Being a part of the editorial team, it was my pleasure to interview him and know how he achieved this, at the same time post it here for others to get inspired.
Here are the excerpts of the interview…
Good-morning Onur, First I want to congratulate you and second, I thank you for saying yes for this interview.
Thanks, Nitish, pleasure is all mine. It would be nice if this interview can help others in some way
Of course, it's going to help others, knowing about your struggles, it might even inspire others. So, tell me about yourself in detail…
This is the question which is always tough for me to answer, let me try... I am from Turkey, to be precise from Mersin in southern Turkey. I was born there and lived there for couple of years and because of political instability, left Turkey and spent few years as a refugee in London, UK. During that time, it was not easy for us, a family of four, with little money to spare but with unending needs. I remember the day going to school with no lunch box and looking at my classmates having lunch. Thanks to one of my teacher (Elizabeth) for being kind and generous, she used to talk to me often and helped me the best way possible. Anyways, good that I have experienced it, it made me a responsible person, and I learned the hard facts of life.
I agree, but I guess it was a very young age to learn all that.
Yes, but there are many who are facing something more severe than I did. I am sorry, let's not deviate from the subject of the interview.
Thanks, it is my job to say that, you can proceed further…
Sure, so after our brief stay in UK we came back to Turkey. My father started working as an accountant and me and my sister completed our education. I graduated in 2012 with a Chemical Engineering degree and joined the army.
You have worked in army as well?
Yes, I spent 1 year in army as it is mandatory for us to serve for some time in the military. Later, I started my professional career with PepsiCo (Frito-Lay) as a production engineer and worked for more than 3 years. While working there, I felt the need of doing master's in supply chain.
Lovely, so this is where your journey for AMS started?
Yes, but again it was not easy. I haven't spoken much in English before, it gave me nightmares to even think of speaking English on daily basis. I decided and started to work on improving my English to clear the language test, that was the first hurdle towards my dream. The day I cleared it, I was the happiest person on earth.
And then, thanks to AMS and the staffs here, especially Meredith and Cathy Boesmans, who took my interview and saw something in me. Throughout the application process, the support given was commendable, every question even if repeated like hundred times were answered with tremendous patience. I think, this is what makes AMS different from other schools, you come as a student and leave as a family.
True, it seems you are overwhelmed with feelings, wipe your tears…
Haha, don't make me laugh Nitish.
I am just trying to keep your smile intact. There are still many things to talk about.
Yes, sir, shoot…
Good, so the important part of the interview now, how you made it to this job?
How I made it? It was not that easy… I guess the work for it started the moment I came here in Belgium. But I thank the school for having such a structured curriculum with all the recent updates in the industry, that I need not to worry much on my subject knowledge. From all kind of exercises to business games, everything made it easier to understand the concepts and course like LCDT (Leadership and Career Development Training) improved my personality and skills. Just imagine a person who merely speaks, to a person who rarely stops speaking in English. AMS deserves an heartful of thanks for this.
I have the same feeling that you have, it was indeed a wise decision to come here and study at AMS. Before I end this interview, I would appreciate if you can give some suggestions to prospective students.
Of course, the most important is to learn Dutch, it can greatly increase one's chance to get a job here. And, don't get disappointed if you get rejected, it happens, keep applying.
I show my consent to your suggestions. With that I again thank you for giving time for this interview, and I wish for your success, not just for now but forever.
Again, pleasure is all mine.