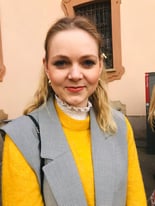 Anouk Van Dingenen studies at AMS this year; learn about why she loved studying in Antwerp.
Hello everyone,
Anouk from Master in International Fashion Management speaking again! If you are new to this blog, welcome to the world of AMS, if you already read the first blogpost of MIFM, congratulations! That's even better! For those who just found their way to the AMS blog; in a series of blog posts, I will explain what the brand new Master in International Fashion Management is all about! The first blog (that you can read here) dealt with what this Master year looks like and how the year is divided. In this second blog post the MIFM series continues, hooray! Keep reading and discover how the first semester in Antwerp is divided, what courses are taught and how these are examined, what companies we visit and the fun trips we make!
Courses and examination
First of all, I will provide you with an overview of the different courses taught and how these will be examined. Important to know here is that every course is achievable even without any prior education in the field. Myself, I was stressing out for the economics and finance class before starting this year. However, with all the help from the professors and your fellow students and some dedication you definitely get there!
The journey of this master starts in Antwerp at the beginning of September. The year is kicked off with an introduction into Macroeconomics and Perspectives on Global Businesses. In this course several topics are covered including measurement and determination of economic activity and fiscal and monetary policies. For the examination, a group work on the current economic state and challenges and prospects of a country of choice has to be handed in.
The next course is Ecosystem of the Fashion Industry.In this course an introduction into the beautiful world of fashion is provided. You will learn all about the Antwerp Six, local and global challenges and segmentation and dynamics within the industry. Furthermore, you get the chance to discover new companies and independent designers, such as lingerie company Van de Velde and independent handbag designer Lies Mertens, by means of company visits and guest lectures. Concerning the evaluation of the course, an individual written paper has to be handed in.
The third course is Supply Chain Management, which is indispensable in the textile and apparel business. In this course, you will learn all about the importance of a smooth process and collaboration between the different parties in the supply chain of a fashion company in order to maximize the overall value. The grading of the course exists out of two parts. The first one is an individual written exam, the second part exists of two small individual assignments on the supply chain of a Belgian-based company and on the review of a supply chain related research paper.
The fourth course is Customer Driven Marketing. This course exists out of two parts. The first one focuses on general marketing and marketing management, while the second deals with retail and digital marketing. Both parts focus on putting theory into practice immediately with multiple real-life examples and exercises and are graded by both an individual presentation or written exam and a group assignment and presentation.
Next up is the Finance course. The first course provided an introduction into general financial management, while the second one also placed emphasis on investment methods and valuation and buying methods of companies and channel strategies. After the courses, the balance sheet and the income statement will sound like music to your ears ;-). The two financial parts will be graded differently. For the first part, a group assignment has to be handed in, for the other part, an oral exam takes place.
The sixth course is Business Modeling and Entrepreneurship. This course again exists of two parts, focusing on developing a business model, cultural entrepreneurship and HR-related topics. Again also the grading exists of two parts; an HR challenge has to be handed in, as well as an individual written paper demonstrated with an individual oral presentation. For the individual work, you will be matched with a starting designer or company for whom you have to develop a business plan. This is an ideal opportunity to work with a real-life designer and broaden your network in the fashion industry at the same time.
The first semester ends with the Fashion and Lawcourse. In this course you learn about which legal actions to take when starting up a company, how to protect your brand with trademarks and copyrights and legal practices in e-commerce. The course is graded by means of an individual online written exam.
Company visits / Fashion capital Antwerp
Of course Antwerp is one of the world's fashion capitals, so company visits and guided tours cannot be missing. Therefore, during the first semester in Antwerp, several company visits are scheduled to put learned theory into practice. As mentioned before, guided visits to Monar Antwerp, fashion company FNG and lingerie company Van de Velde were planned. These were highly educative and offered a look inside and how a real-life fashion company is operating. Furthermore, we got the chance to discover fashion capital Antwerp by means of several tours. The history of the Antwerp Six and the importance of fashion in Antwerp was explained in an Antwerp Fashion Walk. Furthermore, we got the chance to discover sustainable fashion in Antwerp and stores that are committed to offer sustainable clothing. Lastly, a guided tour throughout was planned to discover new and different retail and technology formats in Antwerp. This was the perfect way to get to know Antwerp in a different daylight and see the broad range of fashion, retail and history it has to offer.
School trips
Lastly, 2 school trips will take place in the first semester, one to Wemeldinge and one to London.
Wemeldinge
In the beginning of October, a residential seminar took place in Wemeldinge, The Netherlands. This seminar focused on leadership on both an individual and a group level by means of several exercises and reflections, funny ones as well as more serious ones. At the same time, this was the perfect occasions to get to know your classmates a bit better and bond on a whole new level :-).
London
In November we got the chance to visit London for 3 days to discover the new business of fashion. During these 3 days it was all about discovering new brands and companies with innovative business models and new technologies. More on that in a later blog post!
We hope this blogpost gave you a clear overview of how it is like to study in Antwerp for a semester and what you can expect from the courses, company visits and field trips. Still not convinced to join the Master in International Fashion Management yet? No worries, read all about our London trip to discover the new business of fashion here and we'll talk again ;-).
Interested in taking this curriculum next year?