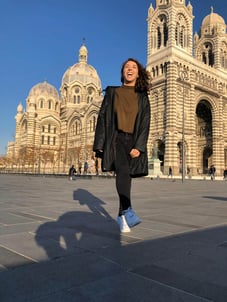 Lena Buekenhoudt is a Masters of HRM student with an outspoken interest in Human Resources. Her program focuses on hands-on, strategic and commercial aspects and therefore goes much further than mere personnel management. She is loving the work she is doing for her consultancy project at bpost bank, this is her story!
Consulting project – icing on the cake of our AMS-year.
The third of September 2018 was the start of our AMS adventure. If anyone would've tried to explain to me what this year meant in terms of professional and personal growth, I probably would've nodded my head and smiled – without actually understanding. Now, as the month of May is coming to a close, the clock of our AMS-life is ticking. I am baffled by what my classmates and I have accomplished: we grew from typical university students to young HR-professionals in no-time! However, we haven't really found the time to fully realize the finality of it all, since the consulting project deadline-clock is ticking considerably louder.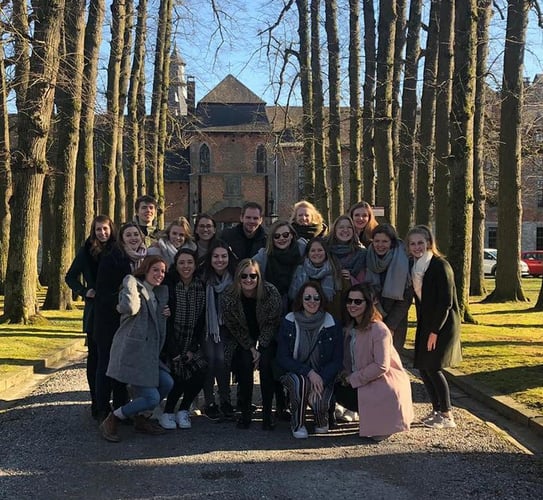 A consulting project…
…is the showpiece of the MHRM-year at AMS, the icing on the cake, the magnum opus that concludes a year of classes, assignments, interviews, presentations, etc. This final project takes up the last eight weeks of the MHRM. The class was divided into teams of two, and those teams were assigned to tackle one of the HR-oriented projects of the companies that approached AMS. Eight weeks to learn the ropes of consulting: gain insight into the business and the problem presented, all to formulate a practicable advice for the project-supervisors.
Five weeks ago, my consulting-partner Sander Sterkens and I started such consulting project at bpost bank in Brussels. For those who are oblivious to the difference between bpost and bpost bank – just like we were: bpost bank is a financial institution that is formed by a 50-50 collaboration between bpost and BNP Paribas. Bpost contributes with its postal offices that serve as connection points with bpost bank's clients, while BNP Paribas delivers the financial expertise and certificates. The company is a SME with around 250 employees.

Only two years ago, bpost bank first worked with AMS students with a consulting project that looked into their performance appraisal system. The students worked out a whole new approached that offered bpost bank advise on how to evolve towards a more open feedback culture. Pleased with the input and results, the HR-department found its way back in 2019 with a new project:
What is competence management, and what could it mean for bpost bank?
PHASE 1: ORIENTATION
The first two weeks was all about orientation for us. Not only did we have to make ourselves more familiar with the topic of the project, but also the context of the project.
Context
It started out with wrong trains, late trains, full trains… But in the end we learned a lot of lessons. These experiences helped us realise we would never want to commute too long or too far for our job, no matter how easy the connection. Not only that, it also allowed us to come up with new fresh arguments to participate in the never-ending hate-NMBS-debate, now as experienced-contributor. All in all, we learned our lessons and our way around the trains.
Once we got off the trains, we had to get to know our way around the second floor – bpost bank's floor in this massive business office building close by the central station of Brussels. The floor is an open space office that forms a circle around the building's patio, organised per division: IT, Marketing, Risk & Compliance, Communication, HR,… etc. I can't even begin to count the number of times we went full circle to find the cafeteria, the washroom or simply our working spot. But slowly but surely, we got to know our way.
While the floor plans were giving us a hard time, we also had to try and get to know our way around the employees of bpost bank. It was not easy to find our way in with the employees while we remain students, a.k.a. from the outside – especially when the language barrier keeps playing a part. Nonetheless, we managed to befriend some people from IT and Marketing, so little by little we got the hang of that too.
Content
The topic of our project was competence management, so it wasn't that hard to find scientific literature and case studies on that to get to know the terrain. However, the question which was very clear was also very broad. The first two weeks, we worked hard to gain as much insight as possible on the topic and the situation at the bank. We used this information to create a clear picture of the situation 'as is' and 'as could be', to deduce where we and our project could be of most value.
PHASE 2: WORK IN PROGRESS
We finally decided upon a diptych research scope. Part one would remain rather theoretical focussing on competence management with its pros and cons, and an idea of how the implementation can be done. We labelled part two with the name of change management, where we focus more on the practical implementation possibilities of the concept at bpost bank.
Part 1: Competence management
The general idea of competence management is that a company works out competence profiles on three levels: the organisation, the functions, and the individual employees. These profiles can then be used in the full HR-cycle, for example recruitment & selection, development & training, etc. Using competences as a building block to describe these three levels helps by providing a universal language for all stakeholders to look for their best interests without losing sight of each other. The registration of these competence profiles also helps with transparency, allowing the organisation as well as the individuals to sustainably and strategically use all assets available.
Competence management seems to provide both organisation and individuals with a competitive advantage. However, deciding which competence dictionary to work with and registering all the profiles is not an easy task. A specific software would certainly be needed to manage all that information. We decided to add a second part to the project because we realised where our strengths were: we would not be able to work out competence profiles on all three levels in only eight weeks.
Part 2: Change management
We quickly realised that the culture of the organisation would need to be adapted to allow a concept such as competence management to succeed. To allow a cultural change, communication seems to be the key. In this second part, we would look into how the bpost bank culture and HR-situation are now, and what we would need to focus on or pay attention to with a project such as competence management.
Communication is the star player of change management, so we figured out our next move would be to start the first conversations with the internal stakeholders of bpost bank. We talked to the CEO, CFO, the union and a considerable number of managers – each had their own take on the project and gave us all the input we needed. We both loved doing these interviews, as they helped us tie the ends and connect our theoretical background with their practical experience. For me, that's what the consulting project is all about.
PHASE 3: WHAT'S YET TO COME
Now the only thing left is for us to work out the rapport that is due by June 14th. We have all the input from scientific literature, consultancy companies in the field, top- and middle management of the organisation, etc. And most importantly: we have our own sharp minds.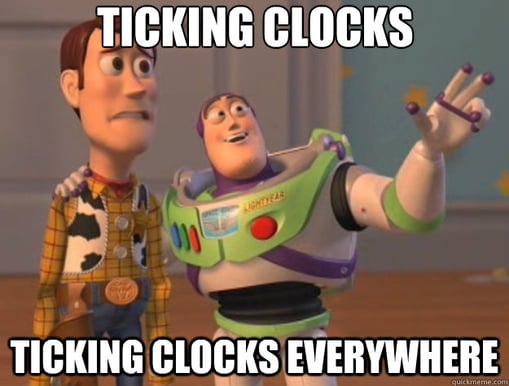 Going into the sixth week, the deadline-clock is ticking louder and louder. Working towards this final deadline has been quite a ride, we've worked hard and we will continue to work hard till the last possible moment. After handing in the final report, we will have time to breath a little and reflect on the way we've come since that Monday morning, September 3rd 2018…
Are you passionate about HR like Lena?

Interested in hearing more testimonials like Lena's about HRM? Watch this! (In Dutch)