Anouk Van Dingenen is an adventurous International Fashion Management student at Antwerp Management School. Her and her class spent 7 weeks in São Paulo during their program and this is her story.
What to expect from Brazil?
School, safety and overall experience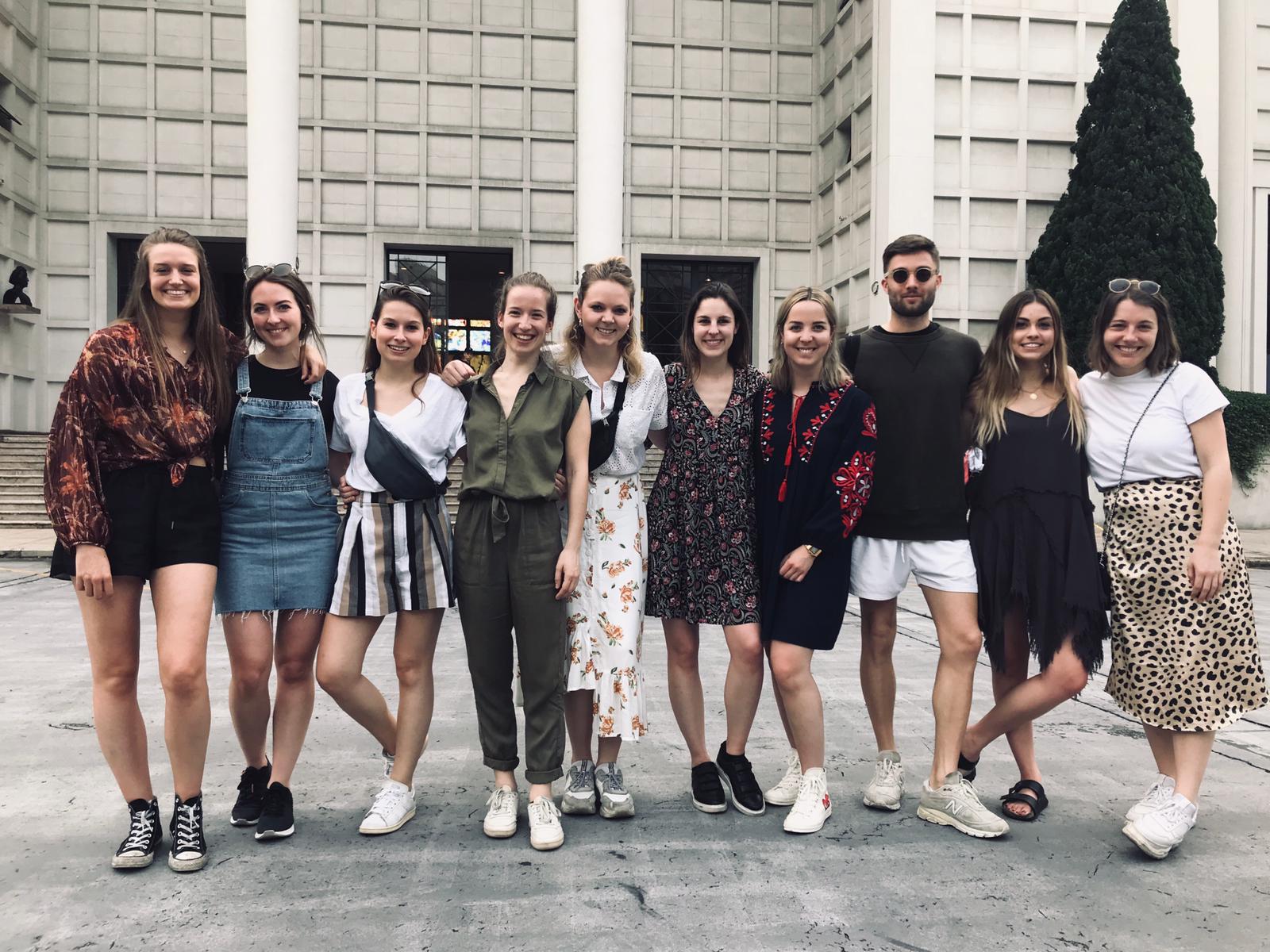 After an interesting and fun 6 weeks in Milan and a quick stop in Belgium for a few days, it was time for us to leave to São Paulo Brazil on the 17th of March. The next day, school was immediately kicked off with an introduction meeting at the beautiful school, FAAP. We received a warm welcome from the professors and immediately were introduced to the city of São Paulo, with plenty of tips, must visit places and must try foods, fun events and safety instructions. After a few days, we were settled and we immediately felt like we were at home (probably also thanks to the sunshine and warm and pleasant weather ;-)).
School
For 7 weeks we followed courses at FAAP, Fundação Armando Alvares Penteado. FAAP is a prestigious, high-quality school located in the very safe Higienópolis area in São Paulo. Next to functioning as a school building, the venue also includes a gym, a museum with exhibitions, a theater, library and cafeteria amongst others. So it is definitely a nice place to work for school or just hang around.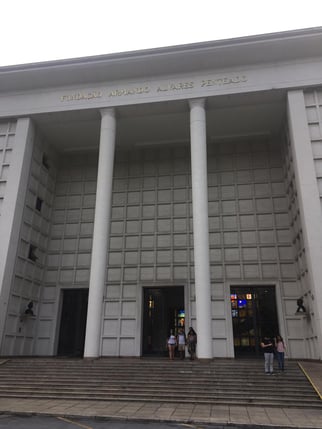 The courses at FAAP included an introduction to the Brazilian fashion market, referencing a bit of Brazilian history and culture along the way. Furthermore, we dug deeper into the economy and fashion business, with topics such as Brazilian artists and brands, fashion poles, the value chain and branding in Brazil. There were also several company visits scheduled, which was nice to channel for discovering diverse Brazilian brands and how they operate. For our final projects we were divided into groups and each of us got a real life case study to work on. Three Brazilian brands came to school to present their brand and current business struggle. Our job was to make an overview of their current business model and give recommendations on how to cope with their current difficulties.
Moreover, throughout our entire stay, the professors were very supportive, you could contact them with whatever questions you had, whether it be about the courses or the final case study, or even if it was just for advice about your next weekend trip, they were always happy to help ;-).
The icing on the cake for me during the courses was our trip to Rio de Janeiro. The first day there, we got the chance to visit the headquarters of Brazilian fashion brand Reserve, go to a samba school and visit flagship stores. The other two days we were off and discovered the amazing city, I definitely recommend to do so!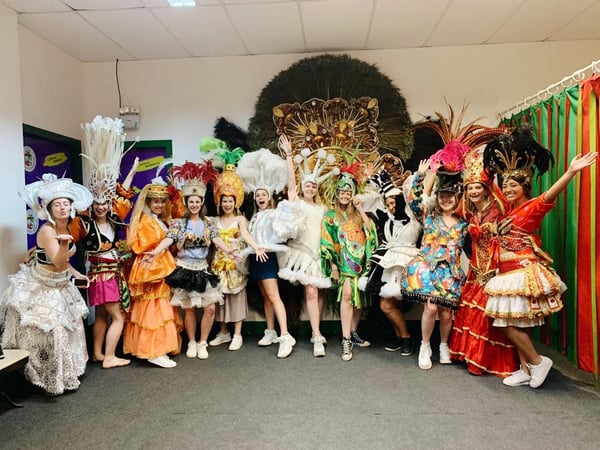 Safety
Brazil is known as a rather unsafe country, but according to our experience it is perfectly safe! Of course, you need to take care of your stuff (as in every large city) and make sure you stay in the safe areas. The areas where the school and our apartment were located in (Higienópolis, Bela Vista, Consolaçao) are very safe areas. These areas you can walk with your phone and when it is dark and have no problem. However, note, when you go to downtown São Paulo or areas you are not sure of, do not take out your phone on the street and go straight from the uber to the place you need to be. Apart from that, we all felt safe during our whole stay in Brazil.
Experience
Brazil is a beautiful country with lots of things to do and lots of places to visit. Therefore, take the chance to discover as many places as possible! For us, we usually spent the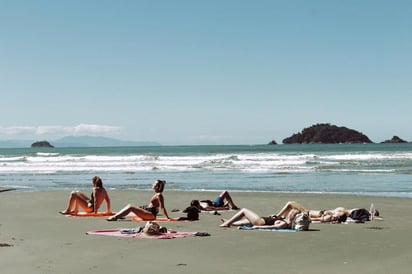 weeks in São Paulo because of the busy class schedule. However, during the weekends we made several trips, including to beaches Maresias, Peruíbe and Santos and of course Rio de Janeiro, all must visits and an ideal way to relax from a week of classes ;-). So according to us, the overall experience in Brazil was amazing and a perfect mix of work and play.
Must-do's
Make Brazilian friends
Brazilians are the most open and friendly people, so definitely try to connect with them at school or even outside of the school setting. Moreover, they know the city and country the best so they will also bring you to the nicest parties and prettiest non-touristic beaches and places.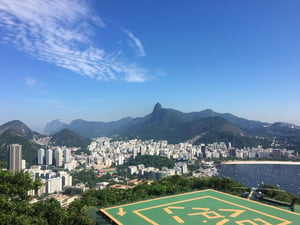 Experience a Brazilian Samba night
Brazil is known for its samba music and dancing and going to a samba night is a unique experience you can't miss out on! We went to one in Bar Brahma, which is definitely a recommendation. Explaining the experience is difficult, since it's just something one has to experience!
Go to a "churrascaria"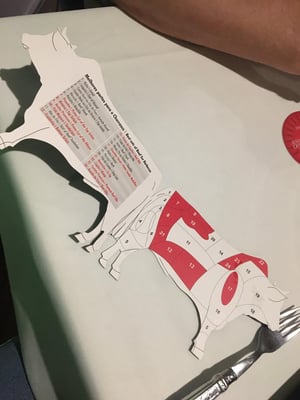 Brazil is very known for its meat, next to samba dancing and carnival. One of the best meats I have eaten here was at a so-called churrascaria. This is a place where with a kind of all-you-can-eat formula. Waiters pass by with different large pieces of meat, on a map of a cow, they indicate which part of the cow they offer and then you decide for yourself whether you want to try a piece or not. A very interesting concept and definitely a Brazilian classic!
Visit the Avenida Paulista market on Sundays
Sundays on Avenida Paulista are the best, especially when it is sunny. The otherwise always super busy with traffic Avenida Paulista, is a car free zone on Sundays. The cars are traded for food courts, live music and entertainment, definitely a worth visit!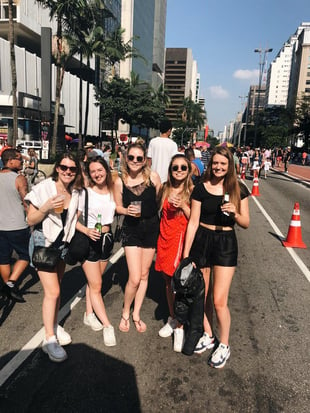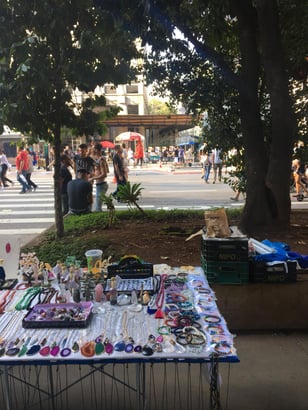 Visit Rio de Janeiro
If you have the chance to visit this beautiful city, definitely do! Rio de Janeiro is a mix of famous beaches like Copacabana and Ipanema, but also go beyond the beach and visit the nature and spectacular view at the Sugerloaf Mountain and also the statue of Christ the Redeemer was magnificent.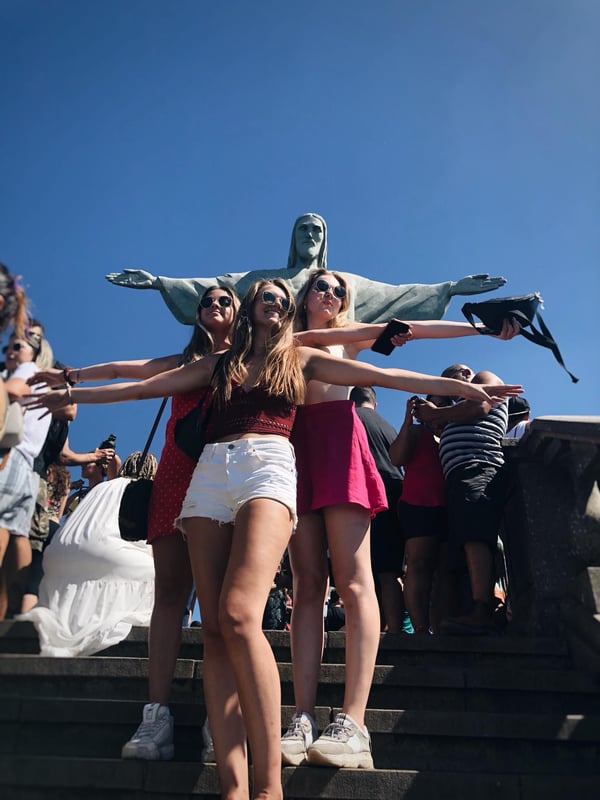 Tips
Learn basic Portuguese
Where we thought people in Milan did not speak English very well, we discovered a whole new level of people not speaking one single word of English in Brazil. Hence, conversations via Google Translate are non stop. But don't worry, the Brazilian people are so nice and will try to find a way to understand you (even if it takes awhile).
Invest in a fanny pack
Tourist level 100% with a fanny pack but rather safe than sorry when it comes to not get your belongings stolen. In my opinion, it is the easiest way to carry your belongings anywhere in Brazil and keep your stuff safe along the way! Luckily nowadays the offer of fanny packs is large and varied and much more original than it ever was so it does not have to be dull there are quite stylish options ;-).
Use SPF 50 or you will get burned for sure
Even though it is autumn in Brazil, the weather is nice and sunny and perfect for weekend trips to the beach. Brazil has several nice beaches to spend your weekends. So, that is what we did several times. Going to the beach and getting a tan is all nice and all, that is, until you get so burned your feet are so red and swollen you can barely wear shoes. So my golden advice: ALWAYS put on SPF 50 and put it on every part of your body including feet, ears and hands.
Uber is the way to go
Uber is very convenient in a large city like São Paulo. Rather than taking the bus or subway, we always opted for Uber when we wanted to go out for dinner, drinks or even to go to school on a rainy day. So installing the Uber app is definitely recommended! Plus, an extra advantage: Uber is very very cheap in Brazil so often not worth the walk! ;-)
Go with the flow
The Hawaiian "hang loose" mentality (and sign) already made its way to Brazil. So forget the buzz, relax and don't take anything too seriously in Brazil (except for school of course because we are not responsible for your grades ;-)).
If our amazing experiences in Antwerp, London, Milan and Brazil haven't convinced you yet to subscribe for the amazing Master in International Fashion Management, we don't know what else will ;-). Stay tuned for the last blog post about what exactly this extra master's year has brought me.
Interested in studying in São Paulo next year?