Around 1800 years ago, dumpling was first invented in China, which was only for special festivals. Nowadays, Chinese people also eat this traditional food even in daily life. Besides, dumplings are becoming more popular worldwide because of its special meanings and delicious taste.
In the evening of January 15, students from Master of global management program (MGM) had a special class about how to make dumplings. In total, dumplings of two different favors were by made MGMers on that day, which are beef with green onion and chicken with mushroom.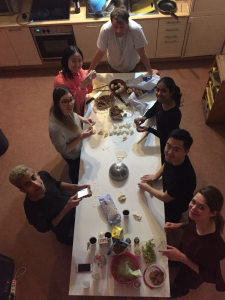 First of all, as the 'teachers' of this class, two Chinese classmates, Jiachen and Siyi did preparation work, including making dumpling dough and cutting all the raw materials to small pieces as fillings. Then the most complex part began. Many girls participated in how to make the dumpling of good shape when dumpling dough and fillings were ready. On one hand, more fillings will make the dumplings tastier; on the other hand, it is harder to keep the shape of dumpling when it is full of fillings. Moreover, the fillings with a lot of ingredients are quite sticky, adding more difficulties to make a perfect dumpling. However, after continuous practices, several classmates including Yade from Belgium, Elizabeth from India and Pauline from Netherland can make beautiful dumplings.
It is easy to cook dumplings when the previous steps are well done. Basically, put them into the boiling water. And put cold water into the pot when the water is boiling again. Repeat this step for two times and the dumplings will be well cooked.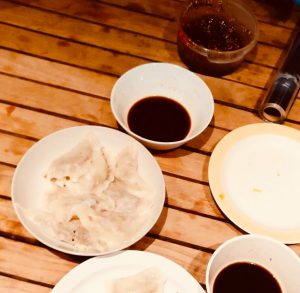 Finally came to the most exciting part: mix the dumplings with your tailored made sauces consisting of soy sauce, vinegar and chili oil. Then eat it on one bite!
This special class ended at around 9pm with all the participants' satisfaction.