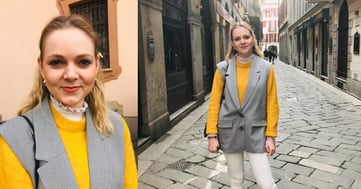 The class of Master in International Fashion Management student Anouk Van Dingenen moved to Milan for 6 weeks. Discover all the reasons why she loved studying about fashion in Milan.
Hello everyone!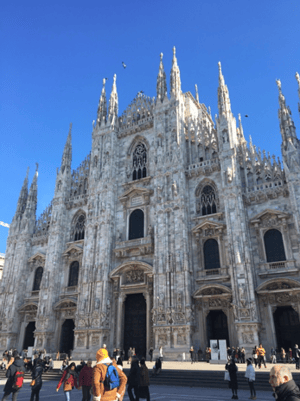 If you read the previous MIFM blog, you might already know that the master in International Fashion Management moves to fashion hub Milan for a period of 6 weeks for a Fashion Buying workshop. After studying in Antwerp for a semester and endlessly dreaming about blue skies, Aperol Spritz and Italian gelato's, it was finally time to leave for la bella Italia on January 27. Of course, moving to a new and foreign city is exciting and can be a little stressful, but no worries! In this blogpost, I will give you advice and an overview of what we exactly did in Milan and how we managed to survive here (without our precious parents to cook for us and do our laundry… Just kidding we're grown-ups now ;-) ).
The School
On the 30th of January, we started school at Domus Academy to expand our knowledge on fashion buying. The workshop fashion buying was kicked off with a fashion tour in Milan to discover the city and important brands and sites in Milan. During this tour we got the chance to visit multi-brand stores, the store of independent designer Antonio Marras, the fashion art museum The Armani Silosand last but not least Fondazione Prada.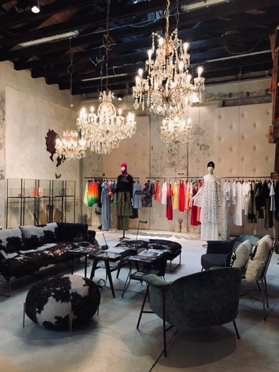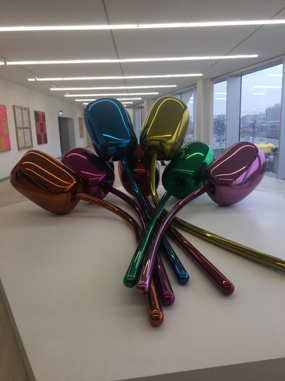 The next day, it was time for the introduction of the actual fashion buying workshop. For our workshop, the school collaborates with Italian streetwear company Slam Jam. For this project, you were assigned in groups together with students from Domus Academy with all different backgrounds and nationalities. Group projects can be challenging, especially when working with several different cultures (Domus is just as AMS a very internationally-minded school), however, this is what also makes them very interesting, educative and a good preparation for the working life.
The goal of the workshop with Slam Jam was to analyze the brand and its competitors, followed by selecting merchandise for the Spring Summer 19 collection and lastly, create a communication strategy to make the merchandise that was purchased known to the Slam Jam customers. During the six weeks, you regularly have meetings with your project leader to monitor the process of the assignment. In between these meetings, 6 courses related to buying were scheduled. Furthermore, after 3 weeks a mid-presentation and after 6 weeks a final presentation is scheduled, where you will present your project for a jury, that includes professors from Domus Academy and people working at Slam Jam. Again, this is a good preparation for next year in the working field.
Housing in Milan
When you study in Milan for 6 weeks, you of course need a place to stay. Finding a good place can be stressful, so therefore, I will explain our experience related to the housing part. Milan is a highly populated city, which can make find a nice place to stay difficult. The school in Milan can help you to find a location. However, to keep the price down and to enjoy the stay in Milan, I recommend to find an apartment together with your classmates. Ourselves we found a nice apartment via Airbnb on a good location and close to the school.
Social life
Of course Milan is not only for studying. Luckily, there is no lack of an interesting social life in a vibrant city as Milan. The city offers many various activities, bars and restaurants, day trips and sightseeing options, so many that you will not even have time to do them all.
Sightseeing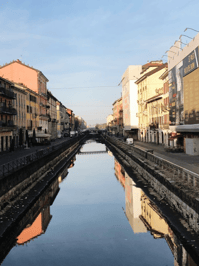 Milan is a city with rich history, cozy neighborhoods and must-see monuments. The entire city is easy accessibly by metro, tram, bus or taxi. The main attractions are the famous Duomo, the cathedral of Milan and Galleria Vittorio Emanuele II, hosting some of the most luxurious brands. Must-visit neighborhoods are the Navigli area, where Domus Academy is located, and Brera, an artsy and characteristic area full of nice bars and cozy restaurants.
Aperitivo
Milan (or Italy in general) is famous for its so-called aperitivo. Aperitivo starts around 6 pm and means that when you order a drink in a bar, you get a platter of snacks such as chips, olives and breadsticks included. Ideal to relax after a day full of courses or group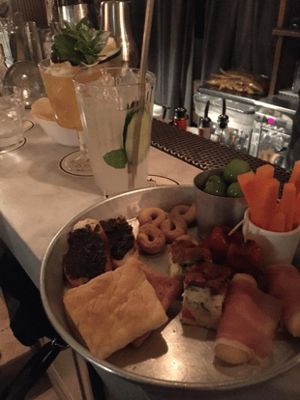 meetings!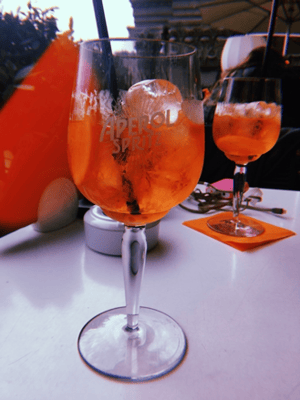 Bars and restaurants
The Navigli area where Domus Academy is located is the perfect place to find nice bars and restaurants next to the water. Great food on a terrace in the sun next to a beautiful canal, what do you want more? Moreover, in the weekends, the neighborhood bursts with energy. Many people go out for aperitivo, for a good bite of one of the food trucks or for a cocktail in one of the many bars. Of course, Milan is a large city and there are more bars and restaurants to discover than in Navigli only. Since Italy is known for its good food and drinks, you will not have a hard time finding good bars and restaurants in the entire city. And believe us, sadly there is not enough time to discover them all. Our recommendation: Terrazza Aperol, as the name says, the terrace is known for the famous Aperol drink, however, there are also other options for drinks! What makes this place so special, is the beautiful view on the Duomo of Milan. There can be a queue if it is a sunny day and especially in the weekends, but it is definitely worth the wait!
Daytrips
Milan is a getaway to several charming Italian cities in between the group meetings and lectures. You can easily travel by train to some of Italy's prettiest cities such as Florence, Venice and Turin. Our recommendation for the perfect daytrip: Como! Como is located at the beautiful Como lake and is only an hour train ride away from Milan. Perfect to escape busy Milan for a day and enjoy the tranquility of the lake.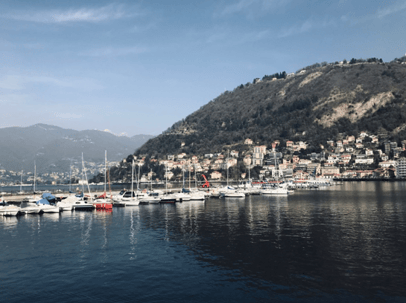 Tips
Lastly, I will provide you with some tips to survive 6 weeks in Milan ;-).
Always be fashionable late
If a class or meeting is scheduled at 9.30, there is a 90% chance it will actually begin only at 10.00 or even later. Moreover, if the teachers give you a 10-minute break, count at least a 20-minute one. Southern countries are not very well known for their strict time management so our advice: just relax and go with the flow ;-).
Duo Lingo is your best friend!
The majority of the people you meet in Milan outside of the school setting (or in Italy in general) will not speak English very well. So practicing some basic Italian words on Duo Lingo as preparation for your leave is not a bad idea!
Italian coffee =/= Belgian coffee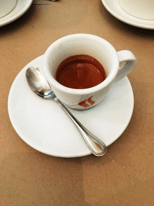 Ahhh who does not need a good cup of coffee in the morning (or afternoon or evening)?! Well, a good tip: if you order a coffee in Milan, you get a very small espresso shot and not a regular americano coffee as you would expect. Very effective to wake up, but oh so strong! So if you prefer something less strong, cappuccino or latte macchiato is the way to go ;-).
Don't forget your sunglasses and sunscreen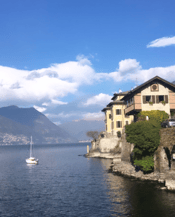 Milan can get sunny easily in February and March, so say bye bye to rainy Belgium and get ready to enjoy the sun. However, even in early Spring the sun can be strong and you can get burned, so don't forget your sunglasses and sunscreen. Working on group projects never was so much fun with a latte macchiato on a sunny terrace!


Enjoy it while it lasts
Time flies by fast when you're having fun! Life can get busy when you have school and a social life to maintain, especially towards the deadline of the project. However, the experience you will gain is so unique and amazing that you don't have to forget to stop along the way to look back and enjoy everything that is happening.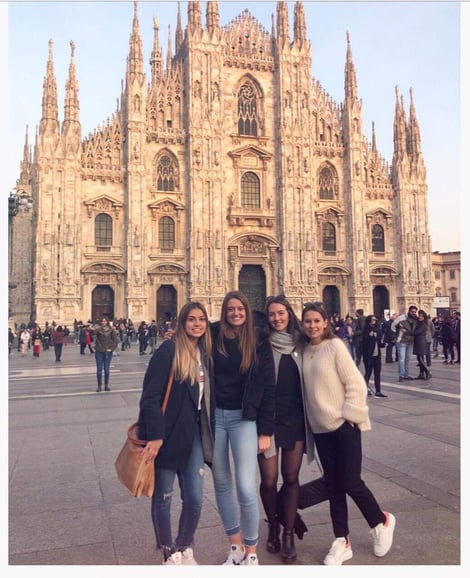 Ready to study in Milan next year?