What happened to our freshly graduated students from last year? Jasper Wijnands, current student at AMS, interviewed some of them.
Meet Riccardo Saccani, alumnus Master in China-Europe Business, one year later.
Can you give a brief introduction about yourself?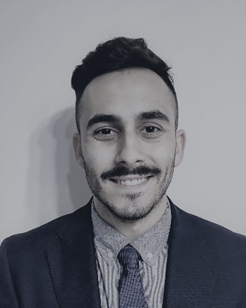 My name is Riccardo Saccani, I was born in Tucson (Arizona). When I was 10 years old I moved to Italy with my family. My personality has always been my point of strength in both academic and working experiences. I followed the China-Europe Business Master's Program at Antwerp Management School which provided me with fundamental insights of business that are currently useful in my working position. At the moment, I am working in Verona at Fiege Logistics as Team Leader.
Team leader at Fiege Logistics, what is that all about?
Fiege Logistics which is one the most important Logistic companies in the world together with DHL and FedEx. My company collaborates with the fashion e-commerce platform Zalando, ensuring that items are received, stocked, packed and finally shipped all over Europe. My role is to assure that my teams meet daily KPIs in order to maintain a sufficient flow of goods inside the warehouse. I am also responsible for the health and well-being of my employees, which means being constantly in contact with people and enabling them to perform at their best every single day.
What was your reason to apply for the master at AMS?
After graduating from the University of Padua, I worked for 3 years as an Office Administrator and Business Developer for a transportation/service company in Verona. At one moment I realized I wanted more from my future career, so I applied to AMS since it was the best solution in order to prepare myself for a future career with a 360° knowledge of the business world. I have met people that had so many different stories and were coming from all different academic paths (languages, law, fashion, business, etc).
"AMS gives you the opportunity to jump-start your career and provides you with the best experience that will change your personal and professional life in a way you could never imagine."

How has your master at AMS contributed to your career start?
In my point of view, AMS provides you with useful knowledge throughout the year which can be applied to many different working areas. For instance, during the Supply Chain Management course I learnt many aspects of the logistic world which I found very useful during the first weeks inside the warehouse. In addition, AMS enables you to connect with so many people coming from all over the world and this also made my integration with other Team Leaders smoother than ever. It is also interesting to see how people are surprised to know that I have been in Antwerp, Budapest, Dublin and Shanghai all in one single Master year, and this actually enhances my credibility at work. As a matter of fact, after only two months, the company gave me the opportunity to work at "Zalando Lahr" for three weeks (the largest warehouse of Zalando in Germany), even though other colleagues have been already working in Verona for many months. I am sure that the experience at AMS and the fact that I had the chance to work and study on an international level made my managers decide that I was suitable for the challenge.
Want to know more about how the Master in China-Europe Business can kickstart your career?
Read the other 'FTM alumni, one year later' blogs: