What happened to our freshly graduated students from last year? Jasper Wijnands, current student at AMS, interviewed some of them.
Meet Philip Suykens, alumnus Master in Innovation and Entrepreneurship, one year later.
Can you give a brief introduction about yourself?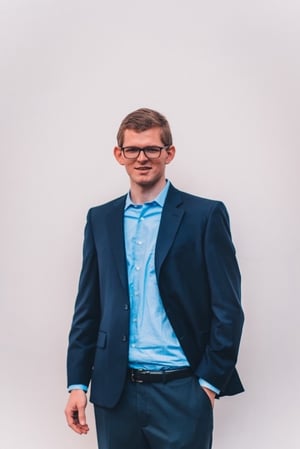 Hi, I am Philip, 24 years old and I graduated last year in the Master in Innovation and Entrepreneurship, but probably better known as 'one of the coolest programs at AMS, and in the world' (dixit our academic director Prof. Robin De Cock ;-) ). Today, I am active as a management trainee at Proximus, Belgium's largest telco provider. Before joining AMS, I studied live sound engineering and business management, I had a start-up, my own company in the events industry and was active as a freelance sound engineer. AMS was therefore the perfect addition to my previous education and experience to further explore the fields of innovation, intrapreneurship and start-ups.
During my year at AMS I was also active as a class representative, student council member and Unibuddy ambassador, with the goal to make students' experience at AMS even better through several social, educational and sports activities, and convince future students to join and apply for AMS.
What is a traineeship at Proximus all about?
A traineeship as a first career experience always triggered me for several reasons. First of all, a traineeship offers young graduates the possibility to explore all corners and aspects of a company in a very short span of time. In my case two years. Secondly, you get a lot of opportunities to further develop yourself on both a professional and personal level through trainings, activities, feedback moments, reflections and so forth. And lastly, companies give you a lot of trust to work on or even lead a project on your own since the goal of a traineeship for companies is of course also to train new talent that kick off their career within the company. Of course, that trust also comes with a lot of responsibilities and independency, but it is definitely an amazing and unique experience
Although corporate life is quite different than a start-up or scale-up, I really enjoy the ride so far. In a certain way the 'non-corporate' approach of the MIE even helps me today in tackling projects in a very lean way, while still keeping a customer centric mindset, trying to create impact, and not getting influenced too much by the 'corporate machine'.
What are the key assets of the Master in Innovation and Entrepreneurship that launched your career?
Since I chose to do an innovation challenge as my master project instead of a start-up (with the idea that I would later apply for a corporate) I already had some experience that I could immediately put into practice within my assignments and projects at Proximus. It definitely helped me in coping with sometimes the uncertainty of what the final result of a project would look like, handling challenges along the way, developing resilience and to keep going when setbacks occur. But of course, the success of our master project was also thanks to the amazing team that I had the opportunity working with.
The focus that AMS put on self-awareness and personal development through the Global Leadership Skills course is something that I still carry with me in my professional career at Proximus. I regularly ask for a lot of feedback from colleagues, try to take time and reflect on my strengths and weaknesses, and if necessary define (new) development goals and actions.
"Not only the beautiful campus, but primarily also the people at AMS (students, staff and faculty) made you feel at ease. It is big enough to always be very lively and busy, but small enough to personally know almost everyone walking around."
What appealed to you the most when you chose for AM
S?
Although I was planning on still visiting a few other business schools, I immediately applied for AMS after I visited their campus and talked with some staff, students and alumni I knew. Where AMS really stood out and what other business schools often lacked in my personal opinion, was the fact that AMS really felt like home. Not only the beautiful campus, but primarily also the people at AMS (students, staff and faculty) made you feel at ease. It is big enough to always be very lively and busy, but small enough to personally know almost everyone walking around.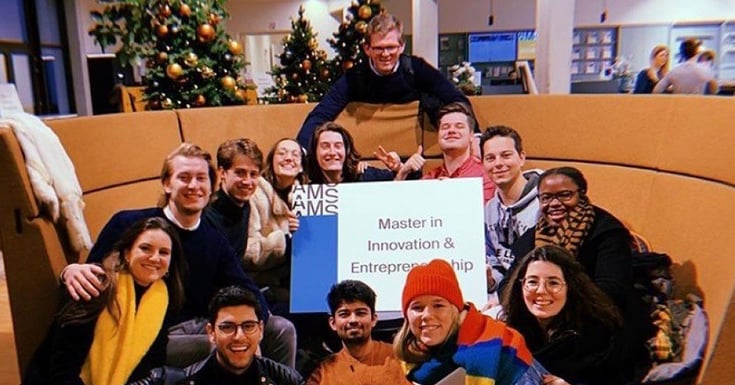 Looking back, the MIE also offered the perfect balance between theory and practice. Of course, we still had some regular lectures, but for every course we had there were a least a few group projects in which we would put the things we just learned about into practice. That to me was the true strength of the MIE, but also AMS in general.
In the end, my year at AMS was a life changing experience and the cherry on top of my education, before kicking off my professional career.
Want to know more about how the Master in Innovation & Entrepreneurship can kickstart your career?
Read the other 'FTM alumni, one year later' blogs: