Our Dublin experience started at the end of September. We had to send a video with our motivation to get selected. The MIE students were with 9 people: Anthony, Bruno, Heleen, Jeroen, Kitty, Mathias, Pepijn, Sjors and Vroni. Instead of just going Monday and Tuesday to visit the companies, we already started our experience on Saturday to do a small city trip. We had 4 great days in Dublin, so here are 10 things we really liked.
No. 1: Hubspot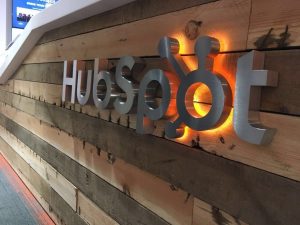 Our first company visit was HubSpot. Welcomed with a breakfast and a guided tour, we could notice that this company wants to create a nice work environment for their employees. If you are an employee of HubSpot –a HubSpotter-, you can play ping-pong, Playstation, go to the fitness or even take a nap. After we got our first impression of this scale-up, we listened to a presentation about HubSpot and together with HubSpotter Denis-Sidney we did a challenge where their new office would be. For your information: they announced last week that it will be Berlin.
No. 2: Discovering the world of Google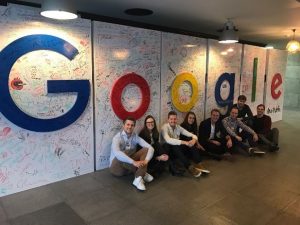 The Dublin Google office tour is not the average company visit you will ever experience. Inside these large office buildings you just don't know what to expect. Every floor has its own theme and surprises. Guided by one of the Belgian Googlers we travelled all the way to the highest floor of the Dublin Google office while passing 7 restaurants, a swimming pool, a large fitness area and a ridiculous amount of 'mini-kitchens' and gaming rooms. And yes since we were there we searched for our houses on a giant Google street view. The fact that there are even private doctors and dentists and free laptops available for all Googlers makes this an extraordinary company. We definitely had a great time at Google!
No. 3:Temple Bar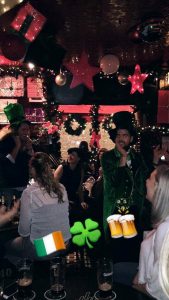 Another must visit in Dublin is the famous Temple Bar. If you want to have a drink on a nice location, you definitely should visit this authentic place. At the outside you can recognize the bar at his red color. The prices may be very high -7 euros for a pint- but the atmosphere is amazing. With some live music and our pint, we could start our evening.
No. 4: Teeling Whisky tasting
Before getting on the plane back to our beloved Belgium the MIE-gang decided to visit a brand new whisky distillery (founded in 2015!) to taste some good Irish whisky. What could possibly go wrong, right? Anyway after a guided tour in the extremely hot and smelly distillery we all learned a very important lesson: Irish whisky and cocktails make a great combo! Cheers buddies!
No. 5: Going out in Harcourt Street
Saturday evening is often a moment to visit the nightlife, as well in Dublin this was the case. After playing traditional beer pong games, we decided to sit around the table and to try an innovative version of the beer pong game. Afterwards we decided to visit Harcourt Street, a street with different clubs. Here we showed them that MIE can dance!
-no pictures available-
No. 6: Trinity College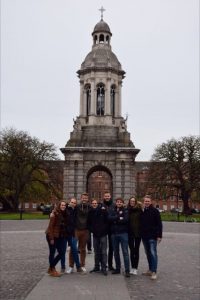 A visit to the famous Trinity College Campus is an absolute must during your visit in Dublin. The university creates a peaceful place in the crowded and vibrant city. If you like the library scene of 'beauty and the beast' we recommend to visit the unique 'Book of Kells' library. Tip 1: If your squad can't decide on whether it's worth to pay 8 euros to enter a library, stand together on a line with your eyes closed. Jump left if you want to see the books or jump right if you want so save your money for more pints. The majority wins! Tip 2: Don't lose your wallet…
No. 7: Salesforce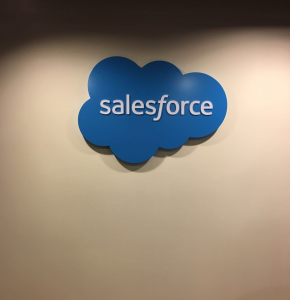 Salesforce was the third company we visited. It was a little bit far from the Center so we had to take the train or the taxi. After we arrived at Salesforce we were welcomed with a nice breakfast. During breakfast, we got more information about Salesforce. Furthermore they let MIE alumni speak about their experience and why they came to Dublin. In the end, there was a planned innovation challenge but due to lack of time, we created a mannequin challenge with the whole AMS group.
No. 8: Paulie's Pizza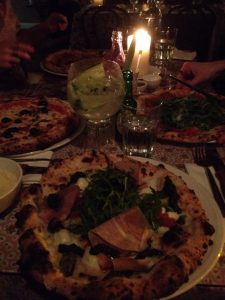 After eating our homemade Jeroen Meus pasta, great award-winning burgers and some fine sushi before we decided to have our last dinner in a great Italian restaurant called Paulie's Pizza. It was the perfect setting to end a fantastic trip to Ireland. Check out the awesome 'Greek pizza' or the 'Hero pizza' if you like red hot chili peppers on your plate!
No. 9: Church Bar
We started off our Sunday evening by indulging in some Japanese food. This made us thirsty so we moved on to a different venue called the church bar. This renovated church had a beautiful view and fantastic atmosphere. There was even a group that had way too much fun and kept shouting all the time but besides this, we still enjoyed our beverages. God saw that we had a great day.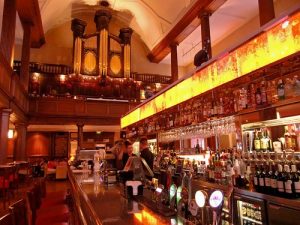 No. 10: The hop-on hop-off bus tour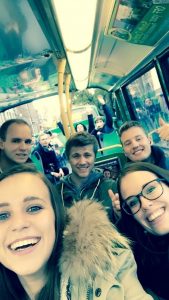 On board of a green double-decker bus we drove through the Irish capital to discover Dublin's main tourist attractions. In only a few hours we saw the enormous Guinness storehouse, the Saint Patrick's cathedral and the beautiful Phoenix Park. However it was pretty hard to stay concentrated due to the ridiculous amount of red traffic lights, the rather unpassionate bus driver ("Ladies and Gentleman I gladly announce you that this will be my last ride for today") and the Guinness pints we drank before.
- Bruno & Mathias -