For the course growth strategy, a part of MIE went to Stockholm to investigate the start-up ecosystem. Euronext commissioned the students the following research question: "Why are so many scale-ups going to Stockholm to realize an IPO?".
On Wednesday the 26th of June, the Stockholm team got the opportunity to present their research to Vincent Van Dessel (CEO) & Benoît van den Hove (Head of Listing) of Euronext Brussel. AND they got the opportunity to open stock exchange by ringing the bell.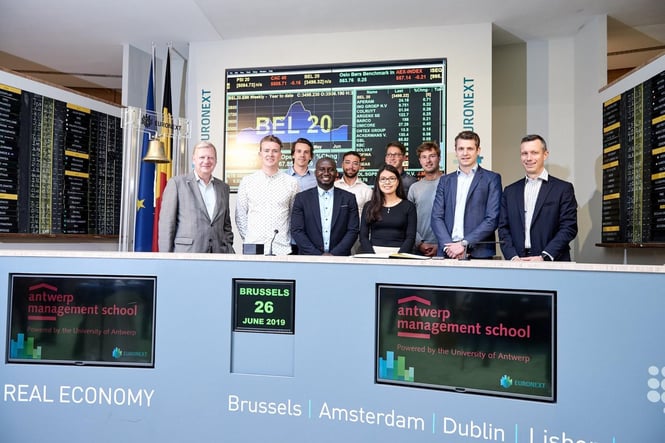 What is Euronext?
Euronext is a European stock exchange with their headquarters in Amsterdam and other markets operated in Brussels, London, Lisbon, Dublin, Oslo and Paris. In 2018, Euronext was the largest stock exchange in Europe with 1300 issuers representing a €3.8 trillion market capitalization.
Tracing its origins back to the founding of the Amsterdam Stock Exchange in 1602 by the Dutch East India Company, Euronext was founded in 2000 by merging of exchanges in Amsterdam, Paris and Brussels. Euronext has since grown by developing services and acquiring additional exchanges.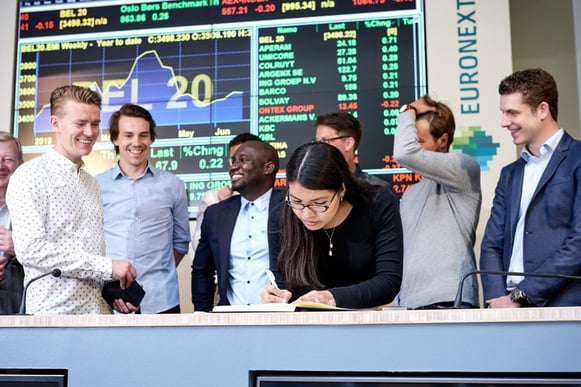 IPO Explained
Listing a company on a stock market is a major decision and a milestone for its owners. Common reasons to list, all very sound, include tapping into markets to accelerate growth, raising visibility, enabling an investor to exit, and preparing for an inheritance or buyout.
Whatever the initial aim, listing changes the dimension and scope of the company and significantly changing its relationships with clients, suppliers and banks. Listing also gives management a unique opportunity to mobilise its own town around a long-term project.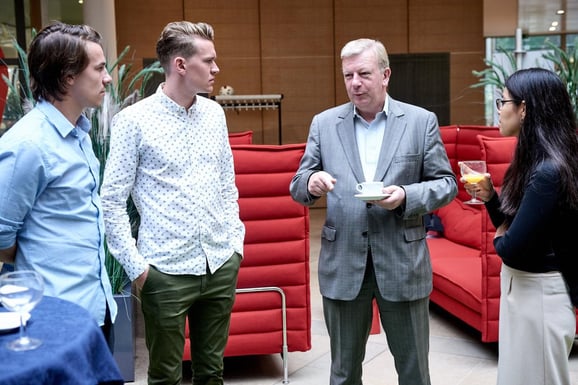 Wednesday 26th June
The Stockholm team was invited for a networking breakfast at Euronext together with the board of Euronext. After some interesting conversations and acquainting with the board members, we were asked to get on stage for the opening ceremony. Exactly 9:00 we got the opportunity to open Euronext Brussel by ringing the bell with singing the Golden Book as follows.
Next on the main goal of the day, presenting our research to the board of Euronext. In this presentation we made a distinction of 5 categories influencing "Why are so many scale-ups going to Stockholm to realize an IPO?": Talent, Investment, Government, Culture and Community.
Later on, the Stockholm team made an overview of Nasdaq (Euronext's Swedish competitor). Our findings on these topics were presented followed by a very critical and open discussion with the board which was a very learn full and memorable moment for the students, which they will take with them throughout their future career.
We want to thank Euronext, Omar Mohout & Robin De Cock for this great opportunity.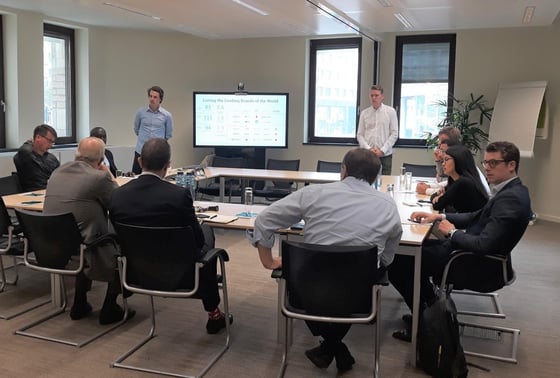 Interested in the Master of Innovation and Entrepreneurship?
Download the brochure: