Have you ever wondered what it would be like to work in Hong Kong, China or South Korea? No? Well me neither.
In November 2016, I was offered the opportunity to do an internship at Umicore in Brussels, Belgium. As part of my internship, I was lucky enough to make a 10 day trip to Hong Kong, China and South Korea to meet with members of the Umicore Asia team and learn about their operations. In this blog post, you are about to read my summary of some of the adventures I was fortunate enough to experience during my time there.
On Friday May 5th, the awesomeness began.
After having spent a day at the office in Brussels, I was ready to fly in from Brussels to Hong Kong.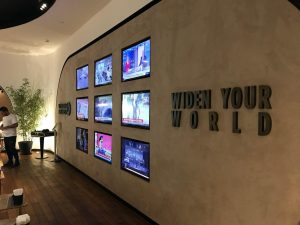 Istanbul Airport, Turkey
I arrived on Saturday afternoon, giving me the night and the whole of Sunday to explore Hong Kong, and combat my jetlag.
I started on Saturday night by having a beer in a local pub while watching some Premier League.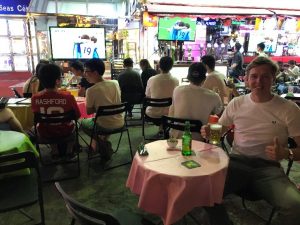 This got followed on Sunday by taking a ferry and a bus to "The Peak", the highest point in Hong Kong, located in the mountains.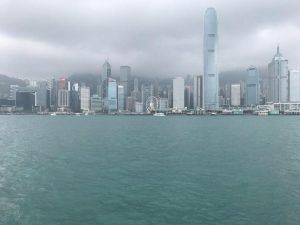 View of Hong Kong from the water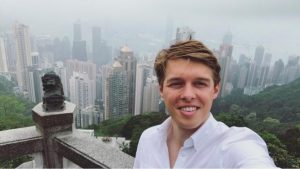 Obligatory selfie on the peak
Although it was very foggy, I was rewarded with breathtaking views of the city.
Monday morning, the work adventure finally started. I visited the company's office in Hong Kong where I got to sit in on some interesting talks and meetings, followed by a delicious and traditional Hong Kong lunch with some members of the HK office.
As the schedule was very dense, I caught a boat that Monday afternoon from Hong Kong to my next destination, Zhu Hai in China. A driver had been arranged by the company to pick me up at the harbor in there when I arrived. At this moment it hits me that I really needed all of this pre-coordinated travel planning to be right on time, Swiss clock style. A taxi would hopefully be waiting for me in Zhu Hai, with the driver holding a piece of paper with my name on it. If he wasn't, I would have a hard time deciphering the Chinese characters all around me, or would have to try to find someone who spoke some English to help me. Luckily, it all went smoothly, and I continued on to my next destination.
That night, I was taken out for another delicious traditional Chinese dinner by the company's support service manager, Damon. He generously offered to buy a bottle of Chinese wine, but this was before I discovered that Chinese wine contains…. 53% alcohol. After a delicious meal, I was introduced to something called an "e-driver", China's version of drinking and driving responsibly. A driver arrived at the restaurant on a neon-lighted electric scooter, and went to go find Damon's car to drive us home. It was a perfect finish to a long day of new experiences, and building new relationships.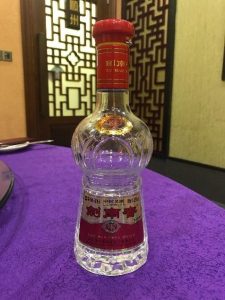 Chinese Wine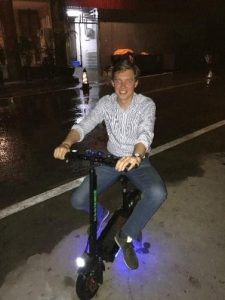 Riding fancy neon-lighted electric scooter
Tuesday morning 8 am, bright and early, I proceeded (…admittedly a bit bleary eyed) to the Umicore China office, located in Jiangmen. The day was filled with talks with business leaders, and tours around the factory to let me gain a deeper understanding of the company's operations.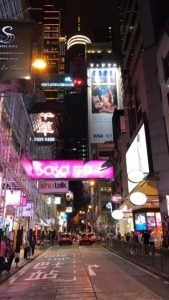 The next day, I flew from Guangzhou China, to Incheon, South Korea. After landing in Incheon, I travelled by train to Cheonan, my first destination on the Korean peninsula.
Thursday and Friday mornings, I was given the chance to work closely with the wonderful South Korean team at the Cheonan offices.
On Friday afternoon, I proceeded to Seoul where I visited the Umicore's HQ in South Korea. I was lucky enough to speak with the head of their finance division and financial reporter for more than two hours. It was one of the most fascinating talks of the entire trip.
Seoul, South Korea
Since my flight back to Brussels wouldn't be leaving until Sunday, I was able to spend a whole weekend in Seoul! One of my best memories of this trip was having the chance to reunite with my two best (and also only) Korean friends living in Seoul. One I met on a summer exchange in Taiwan, and the other during my master study in Gothenburg, Sweden.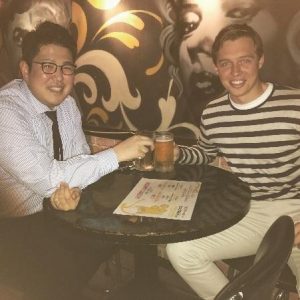 Donghoon and I celebrating our reunion
In short, this trip was one of the best international opportunities and experiences I have ever had.
Some of my biggest takeaways from this trip would be:
The differences that exist between the Chinese and South Korean cultures, economies, and way of doing work.
Travelling alone in Asia requires solid preparation, as English can be limited in some areas (I definitely got lost, but luckily only once).
The importance of building international relations between countries and cultures.
Having the unbelievable opportunity to shadow some top managers at Umicore, and get an immersive deep dive into their day to day operations.
While tremendously rewarding and informative, this was definitely an intense trip. 5 flights, 5 trains, a couple of boat rides, and more than a handful taxis. I'm grateful to AMS and Umicore for making this trip a possibility, and would encourage others to go abroad during your time at our school. I'm really glad I did, because it was incredible.
And of course, Thank you for reading!
- Willem Corstjens -