So, how is life as an intern in Dubai? Well, to be honest, it's awesome!
When I wake up in the morning the temperature is already 30°C and more. Therefore, commuting to work can be quite tough (Yeah, I hear you; "don't complain you're in Dubai", but still.) I leave at 8AM, but because my car is parked in a place without shadow it's already extremely hot inside of it. 40°C and more is no exception! I drive my car to the metro station and then take the metro to the district I work in.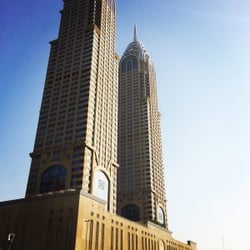 What follows then is 10 minutes of feeling like you're in a sauna while wearing three sweaters. The walk from the metro station to my job is mostly covered in shadow, but doing this in a suit at these temperatures feels like running a half marathon. I'm always very happy, and mostly a little sweaty, when I reach the entry of the building. However, my desk is located at the 21st floor of one of the most beautiful skyscrapers of Dubai. This makes the journey definitely worth it!
The right tower is the one I work in
The company I'm doing my internship with is a consultancy practice specialized in Smart City solutions. My colleagues can be described as the textbook example of how you should organise your work/life balance. The fact that we have a Play Room is evidence enough I suppose. They always meet their targets, but don't be surprised when you see two of them playing Fifa or doing some Wii-sports. There's even an Air Hockey tournament going on!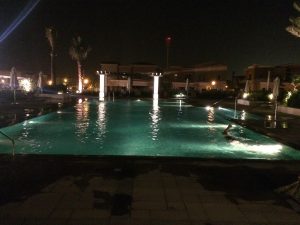 When not at work, I'm living in a gated community with a wonderful Belgian host family. This gated community lifestyle is something I could get really used to! It's very quiet and peaceful. Within the community there are 5 separate neighbourhoods. Each neighbourhood has its own playground for kids and a big pool, which of course gets cooled instead of heated (!)
During the weekends I have plenty of time to explore Dubai. Yes, I've seen million dollar cars, the Burj Al Arab and even went up to the 125th floor of the Burj Khalifa (the view is amazing!). But my host family has also shown me some less touristic places, like for example Old Dubai. This is the Dubai before it exploded here and is the opposite of the modern Dubai. No fancy skyscrapers or Ferrari's, but old buildings and people who make their living out selling nothing but spices.
Some fun facts about living here to conclude;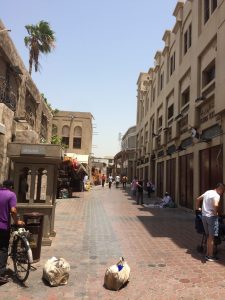 During the summer months July and August, it gets so humid (and hot) that cars have to drive with their wipers on.
The biggest aquarium and shoe store in the world can be found in the Dubai Mall; not surprisingly the biggest mall in the world.
Dubai is not a place to race with cars. There are flash units everywhere and the minimum fine is a whopping 150 euros!
If you ever doubt to do an internship here, don't hesitate and just do it because it is freaking awesome!
- Dennis Weyts -