Last week MIE attended the consulting company Board of Innovation. As usual, before actually meeting the company, we had our expectations regarding the company and the upcoming meeting. We expected to see an environment that exists in companies like Deloitte or McKinsey: work-oriented atmosphere, many tables in line, professional dress code, etc. We were pleasantly surprised to see none of the above. What we did see was an inviting, cozy place to work, a ping pong table, and a bar at the entrance. The office was filled with joyful employees, creative spirit, and innovation in the air.
What?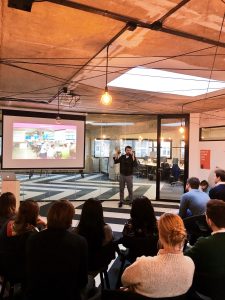 Board of Innovation is an international agency helping large corporations overcome the complication that comes with implementing innovations within the organization. Board of Innovation helps companies innovate like Startups. Nestle, ING, eBay, ABInBev and Johnson & Johnson are only a few well-known customers of the company. Not only does Board of Innovation help companies innovate, they also provide various training programs, free tools, resources, and consulting services.
Welcome
We got a warm welcome from Lucas Tambourin, Innovation Consultant at the company. He told us about the company and explained how things work. At the end of the meeting, we had a very interesting and interactive workshop that helped us understand that you must start by choosing the right customer segment, find it's pain, and therefore provide the best solution. The next presentation was given by the AMS alumni, Vincent Pirenne. He is currently working as an Innovation Strategist at Board of Innovation. He shared his path from graduating AMS in 2013 to launching several start ups and finally ending up as a corporate accelerator for the company.
Design Thinking...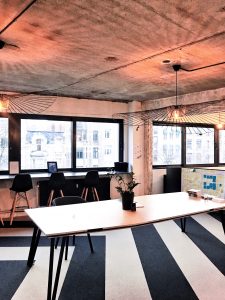 The last presentation we had was given on one of the «hottest» issues on the market: Design Thinking by Yin Lei Zhang. If anyone is not familiar with the concept, I highly recommend to gain some basic knowledge of it. Briefly explaining, Design thinking is a solution-based approach to solve problems on the market. It is an attempt to understand customers, challenge current assumptions on the market and identify new potential strategies and solutions. Design thinking consists of 5 stages: Empathise, Define, Ideate, Prototype, and Test. The presentation was extremely interesting with multiple examples of «hot or not» solutions on the market. For example, the photo below shows that designers and architectures thought of everything except the potential impact the creation might have on users. In this particular case, skyscraper reflects sun and unintentionally melts cars parked next to it.
A word of thanks
We were extremely thankful to have gotten the chance to visit Board of Innovation and even though the workshop ended around 7pm, we stayed until 10pm. The best part about working at Board of Innovation is not the friendly atmosphere, or the nice space to work or even the interesting projects. In my opinion, Board of Innovation boosts your creativity and gives you a sense of freedom that other companies do not. Your incentives are appreciated, your contribution is valued. You can even lacuna start up while working in the company and ask for help from your colleagues and everyone would give you full support.