Last year a couple of motivated AMS students founded the AMS Consulting Club (short: AMSCC) based on the model of other business schools. When this year's MGM students Marc and Sean caught wind of this initiative, they were ready to roll up their sleeves and continue the work.


Goal
The main aim of the Consulting Club is to provide valuable information and practical insights in the consulting business, ranging from innovation to financial consultancy. This gives the AMS students a chance to share knowledge with like-minded people and interact with interesting people from companies that can be relevant for a future career.
Teamwork
This year, Marc and Sean assembled the team by selecting students from each full-time master, creating an enthusiastic and diverse group. Each of them were given their own responsibilities and ownership to come up with nice projects. These are then backed by all AMSCC members who contribute in their own way. After the club's first general meeting, the logical next step was to do some teambuilding, since most of the members did not really know each other. The team decided to meet up at the Grote Markt to have a cosy dinner – which was followed by teaching the Spanish, the Indian and the Egyptian a thing or two about Belgian 'jenever'.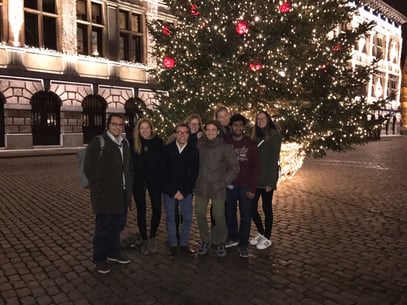 AMSCC team: Mahmoud (MOF), Ester (MIM), Sean (MGM), Ann-Sofie (MIE), Marc (MGM), Paulina (CEBS), Nitin (MGM), Vroni (MIE) and missing on the picture Shipra (SCM)
The AMSCC was responsible for organizing the following events:
"One Hour in Consulting" by former McKinsey consultant and professor Jan Coppens.
"The Asset Management Universe – Insights of an Investment Banker" by the German former investment banker Jochen Tegtmeyer.
"Innovation Consultancy Workshop" by Innovation Management Consultant at Deloitte and professor Elise Meijer.
"Shared XP – to the TOP together" (in coordination with Antwerp Business Community and ThinkAct Club) with speakers from BlackRock, McKinsey, Bloomberg, AGFA, KPMG, Diageo, etc.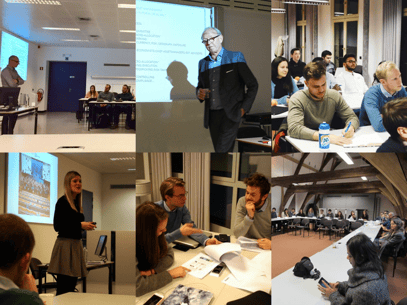 Big thanks to all the speakers of the events, and of course the AMS students who were eager to learn more, sometimes after full days of classes or on Friday evenings!
If you are a future FTM student at AMS and you are ready to take the AMSCC to the next level in 2017-2018, get in touch with either Marc or Sean and they will be glad to help you (contact: amsconsultingclub@gmail.com). It's a great way to boost your network and knowledge about different kinds of consulting!
-written by AMSCC-