The AMS Global Leadership Skills track creates future leaders, that's for sure. One part of this track involves Action Learning Projects (ALP). Teams of students work on a defined project that creates societal impact and contributes to one or more SDG (Sustainable Development Goals) of the United Nations.
Our GLS staff carefully evaluated these projects based on their impact, team effort and project outcome and selected a TOP 6 Best impact ALPs. One of the winning projects is "Look at her".
The team of "Look at her", Birte, Kirsten, Yassine, Cindy and Filippo wanted to find a way to empower women raising their self-awareness and self-confidence stimulating their desire for entrepreneurship and independence.
In this blog, Birte explains the scope of the project.

Introduction
Women do a lot of work that is not valued in society and the economy. Work that is, in essence, the backbone of our economy but doesn't get recognized as such. Research shows that 38% of women in low-income households have considered starting their own business. Unfortunately, lots of them do not have the tools to do that.
Women historically face greater-than-average barriers to business startup. Encouragingly, recent policies and programs have been directed at women specifically in order to achieve more gender equality in entrepreneurial activity. Initiatives have targeted education, equitable financing, innovation, networking and other aspects of entrepreneurship.
Our mission
Inspired by these efforts towards more inclusivity, our team wanted to empower women raising their self-awareness and self-confidence stimulating their desire for entrepreneurship and independence. We wanted to reach a potential group of 'missing' female entrepreneurs. Women in low-income households, often single parents, hold jobs that are disproportionately affected by the covid-19 pandemic. Women that are dependent on welfare may face even greater challenges.
Envisioning a post-pandemic economic recovery, we wanted to create circumstances that allow these women to see entrepreneurship as a realistic path for their futures. We believe that these individuals are often undervalued with regards to their potential. Look at Her specifically targeted women that are not already enrolled in educational programs. We noticed that all these programs had difficulties with reaching our target group. We wanted to make our accessibility more dynamic.
How?
Considering the reality of poverty, the pandemic, diversity and, often, the struggles of single parenthood, Look At Her established an informal digital mentorship program of women for women, addressing different facets of starting a (digital) business.
The idea was to link these entrepreneurial women with a pool of experts and to show their hidden potential, bringing up their ideas and stimulating them to action. We partnered up with #SheDIDit, (an organization that supports entrepreneurship in women with a diverse cultural background), The City of Antwerp (OCMWs), Violett, Unizo and the Digital Leadership Initiative.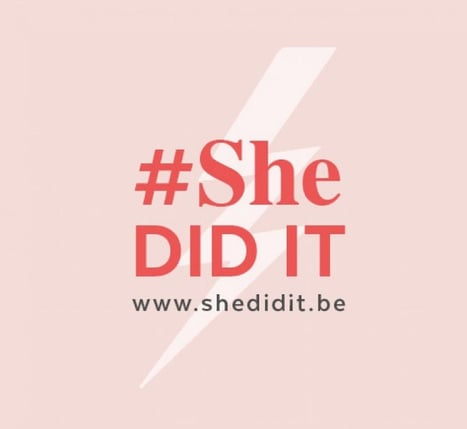 Candidates were carefully matched with an enterprising woman.
From our online lessons we experience that digital education is full of potential, as long as you dare to be creative. So we chose to do everything via Whatsapp: one-on-one mentor sessions via video, homework in the form of audio recordings, a flexible schedule with room for last-minute changes ... In this way we respond to what is often the driving force of enterprising women worldwide: necessity.
Thanks to our collaboration with #SheDIDIT, language is not a barrier and candidates see facets of themselves reflected in their mentor. There is plenty of room for own creative input. Although now done on a voluntary basis, compensation for such flexible mentorship can provide enterprising women with additional breathing space.
"We argue for an economic recovery that enables all women to participate in society. Stimulating inclusive entrepreneurship is one component of this. What we have achieved, without a budget, after class hours, is something a government can facilitate a lot more efficiently. We want potential to be seen in all women."
We started small and so far we successfully managed to connect 5 women with 1 on 1 mentorship. For us, making a real impact, doesn't mean an extensive social media platform, but it is about making a long lasting impact on the individual level. What we achieved, is just the beginning.