Our days are counted. Am I making this sound too dramatic? Maybe. But isn't it so?! Classes end for MGM this week. All we have left is our study trip to Copenhagen and the accompanying assignment. The Master of Global Management class of 2016-2017 is about to split up.
Therefore I'd like to grab this opportunity to put my beloved classmates in the spotlight by means of an homage to MGM.
Long, long ago in land far, far away…
Nope, sorry, exaggerating again.
Antwerp
Six months ago in a (at that time tropical) place called Antwerp our MGM story began. Slightly nervous but extremely excited we all walked into the foyer for the very first time. The very hot and steamy foyer that is. Temperatures reaching 30 degrees Celcius in combination with a business casual dress code, what's not to love.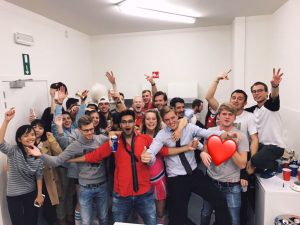 Mid-September a very diverse group of 41 (or 42, opinions are divided and we're too lazy to count) individuals originating from no less than 14 different countries was ready to meet for the very first time. For some that very first meeting was the beginning of everything: A1 since day 1! Other friendships took a little longer and are even a bit unexpected. Thank god for the Excel randomizer that forms the groups for our numerous assignments. Could have missed out on some precious friendships without it!
In short, strangers became classmates and classmates became friends. Now, what do friends do? They hang out and have fun! And sure we did.
MGM definitely lived by the 'work hard, play hard' motto. Remember the legendary (!) beer pong tournament the Belgian boys organized so well? Best. Night. Ever. Of course an all American team won.
And what about the AMS Oktoberfest? Our numerous post-class visits to Patje?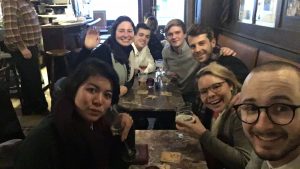 The Halloween party at de Schacht (or the Snatch, as the Americans like to refer to it). Or the welcome back drink there the day before we had our important marketing presentations? The sun-bathing sessions at Kassa beer, euh, Vier?
The dance battles on random nights in the Prof or Plein Publiek?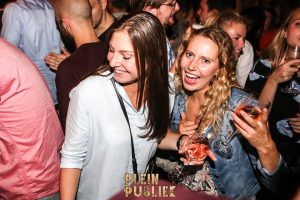 The football tournament where we decided to play an MGM vs. MGM final?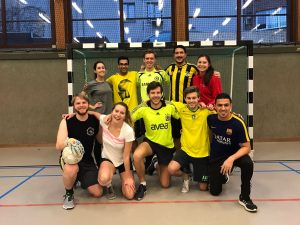 The spontaneous music quiz at the residential?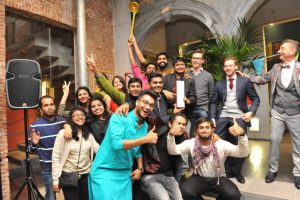 The international dinner that somehow turned into an Indian dance workshop?


And when we collectively visited the Christmas market and went ice skating after our last exam before Christmas break? The ice skating part was pretty interesting (read: hilarious, mayday mayday going down), since some of the MGMers had never done this before. And the AMS Christmas market? Maybe I should not mention our visit to the Polar Bar afterwards.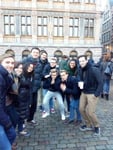 Remeniscing about all these moments makes me super nostalgic already. It's incredible how well we got to know each other over a relatively short period of time. I am confident to say I made some new best friends here. Guess MGM is a big friend zone indeed: still no class couples were formed!
Good old AMS times...
Time to wrap it up. I'd like to thank you all for being your fun and bubbly self, for being here and simply for being awesome. I hope that these friendships go beyond our AMS year. I hope you all keep chasing your dreams, seal the job you've always dreamt of and most of all do what you love. (This is life guru Octavia speaking).
I hope to see you all later on in life, to catch up and giggle about those good old AMS times. Maybe we meet again at someone's wedding? A bachelor(ette) party? Or even a baby shower? Who knows what the (far, haha) future brings.
Good luck during your consultancy projects and internships. See you at PROM (boys, you better start thinking about a creative way to ask your favorite girl out) and graduation!
Your correspondent and favorite classmate, (#jokes)
- Octavia -
'EMM GEEEE EMMMM'