Dublin Challenge
Dublin is a wonderful city. Just visiting interesting companies or going sightseeing there is definitely not a challenge. What really is challenging is saving up three days in order to attend a trip in another country while we have the busiest time of the semester, not mentioning that we needed to do workshops during every company visiting. The people who are willing to take challenges always turn out to have a lot of fun. So did we.
November 15th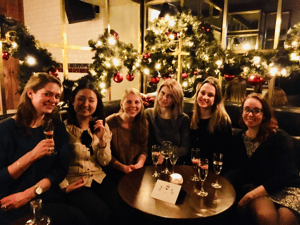 The first day in Dublin was relaxing. At first, a lot of us were tired because of the early flight. However, once we arrived in Dublin, all the exhaustion was wiped out by the excitement and expectations for the following days. In the afternoon, we already started to explore the city by ourselves. In the evening, the first event of the trip took place, an 'Dublin Alumni Drink' starting from 7pm to 9pm in NoLIta Dublin, which is a cozy and famous bar that offer great cocktails and beers. Everyone got two free drinks that night. Three alumni came and talked with us (of course Thomas and Meredith were there as well). Communicating with them was a great opportunity to gain more insights about the future career of AMS students. Also, it was a good chance for us to know each other more since we come from different programs. The NoLIta Dublin already created Christmas atmosphere in their bar. Everyone enjoyed talking there with fancy champagne in hand.
November 16th
We had a tighter schedule today. In the morning, we visited Salesforce outside the city center from 9am to 12pm. A nice breakfast was provided by them. First of all, the staff there gave us a presentation about the history, strategy, mission and challenge of Salesforce, which is a customer relationship management company originally built in US. Then we were asked to prepare a workshop about introducing the service of Salesforce into any other companies we chose. We needed to present the current situation of our chosen company and explained how Salesforce could help this company better develop. During our preparation, assistance and guidance were given by the people who work at Salesforce, giving us cool ideas. Even though we didn't use laptop to create the PowerPoint, every group did a good job. The team made up of students from supply chain management were elected the winners for this workshop and received souvenirs from Salesforce.
After the workshop in salesforce, we took the tram back to the city center and continued the visits to the next company Qualtrics, which is a professional software designing company based on the user data. When entering the workspace, you could see that the working atmosphere there was really comfortable without a proper hierarchy. The workshop consisted of a game, which was about self-identity. We were divided into four groups based on our own Leadership Character Insight Assessment represented by different colors, namely red, blue, green and yellow. It was so funny and meaningful to discuss your behaviors with similar people and explain to others.
November 17th
During our third morning in Dublin the students of the Master in Global Management visited Dropbox, thanks to a connection one of the MGM students has with an employee working there.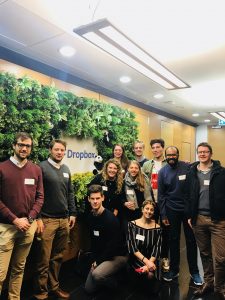 During the first half of this company visit we got a tour of the company building. Needless to say, the students attending this tour were impressed by the company culture and how enjoyable the environment was. Their building consists of a restaurant with a professional chef, mini kitchens, an amazing gym, a recreational room, hubs and conference rooms. A fun fact about the Dropbox conference rooms is that every room has a unique name with a significant meaning, chosen by the employees themselves.

After our pleasant tour around the building, we received a brief presentation about the company's history, vision and mission and were able to ask them our questions.
The visit to one of the most famous companies, Google was arranged in the afternoon on the last day and was truly amazing. First of all, we were divided into two groups; a Dutch speaking group and non-Dutch speaking group to make it a more enjoyable visit. Since Google set up their European Head office in Dublin, the buildings were absolutely fantastic, needless to mention owning the top view of whole Dublin. Initially, the company came to Ireland in 2003, the reconstruction work was cooperatively finished by a Swiss construction design company Camenzind Evolution and a local one, Henry J.Lyons Architect later on. The highest Google building, Google Dock, is a 14 levels office building with different themes in every level. They offer informal meeting rooms, cafés, mini kitchens, a gym and even a swimming pool to their staff members in order to create a feeling of home. After this visit, it became more understandable to me why so many people would like to work at Google, which is such a considerate and multinational company. Obviously, it makes it possible for people who are working there to change the world.
The main working positions at Google are in sales. More interesting, our workshop in Google was related with AMS, which was trying to introduce and attract more people including Belgian and non-Belgians to come to AMS for their studies. There were two groups aiming at Belgium students and another two targeting international students. Every group had different strategies and presentation styles of course; what was really touching was that we looked back and shared how we knew AMS and why we chose it during the group discussion. Moreover, we all related what we have experienced in AMS with our presentations to make it more vivid and compelling. Therefore, all the four groups had satisfying performances and one group won the unique souvenirs.
The Dublin Challenge trip officially ended there while the genuine exploration had just started.
Only a few people left Dublin right after the Google visit. The majority of us chose to stay at least an extra night in this beautiful city. Some visited the Cliffs in Dublin, these are very famous and beautiful, so several students went there on Saturday. Some hard-working students chose to study at the library of Trinity College, where the movie Harry Potter took the shoot.
On the day we left, it was raining. One classmate told us that it was not normal rain; it was Dublin crying because we were leaving. No matter what we did in this Dublin trip, I do believe everyone gained happy and unforgettable moments, made with other AMS students, which they will forever remember when thinking of Dublin.
Article written by Siyi Luo and Sofie Bloemen (Master of Global Management)
Pictures (Streets of Dublin and Landscape) by Pieter-Jan Degelin (Master of Global Management)