Discovering new places of your new country is always a good idea if you want to know more about its culture, history and traditions. The student representatives from the MGM program organised a day trip to Ghent, where all the classmates could enjoy this wonderful city together.
When we arrived to Ghent there was a city guide waiting for us at Sint-Baafsplein (one of the main squares in the city centre). The guide walked us around to the most important monuments and streets of the city. She explained some historical events, interesting traditional customs that are still taken place, and also told us about typical food and beers (of course.... :D).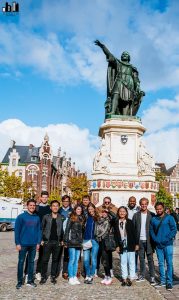 After our walk, we went to eat to a soup restaurant (following the Belgian culinary traditions), there we rested a bit and talked about our impressions of the city. However, our personal tour didn't end up there, our next stop was a bar where we spent the rest of the afternoon talking while enjoying all kind of Belgian beers.
The trip was a good occasion to connect with classmates and the country, discover differences (or even similarities) in culture, and appreciate this fantastic start of the academic year!
The time to say goodbye to Ghent arrived and we came back to Antwerp looking forward to the next trip!